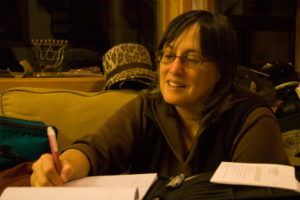 The intention of my work is direct seeing whether representational or abstract, painted en plein aire or in the studio. It is my aim to paint what matters. I draw from experiential, perceptual, and emotional themes that include and go beyond phenomena.
I trace my painting lineage from Pacific Northwest and Canadian landscape painters to lyrical abstract expressionists.
In 1993, while working in environmental sciences and epidemiology, I founded a non-profit for urban arts, eco-restoration, and nutrition called Planet Hot Plate of Bronx Community Works. In 1999, a passion for painting emerged over the course of over three years of residential training at Zen Mountain Monastery in the Catskills. The monastery provided a unique Zen-based arts education through a wide range of arts, environment, and spiritual practice intensives.
After monastery residence, I founded Madrona Arts, an arts and ecology nonprofit in Oregon. It is no longer a 501C3 and now hosts Madrona Arts Press. At the same time, I engaged a self-directed investigation of painting. I was mentored by successive teachers and studied at the Woodstock School of Art (Art Students League). All the elements of my life merge in art.